WORK INFORMATION:
Owner: Anh Phuong

Area: 206m2

Building height: 8.23m

Design style: classic

Usability: Living room, kitchen, dining room, car garage, 4 bedrooms and other function rooms.
3D image of 2-storey garden house design in the countryside
The garden house is designed in a classic style with a soft dome. Raw bricks are used in combination with the brown of wood and tile roofs to create harmony. When looking at this house, many people will think of houses in fairy tales that they often heard when they were young.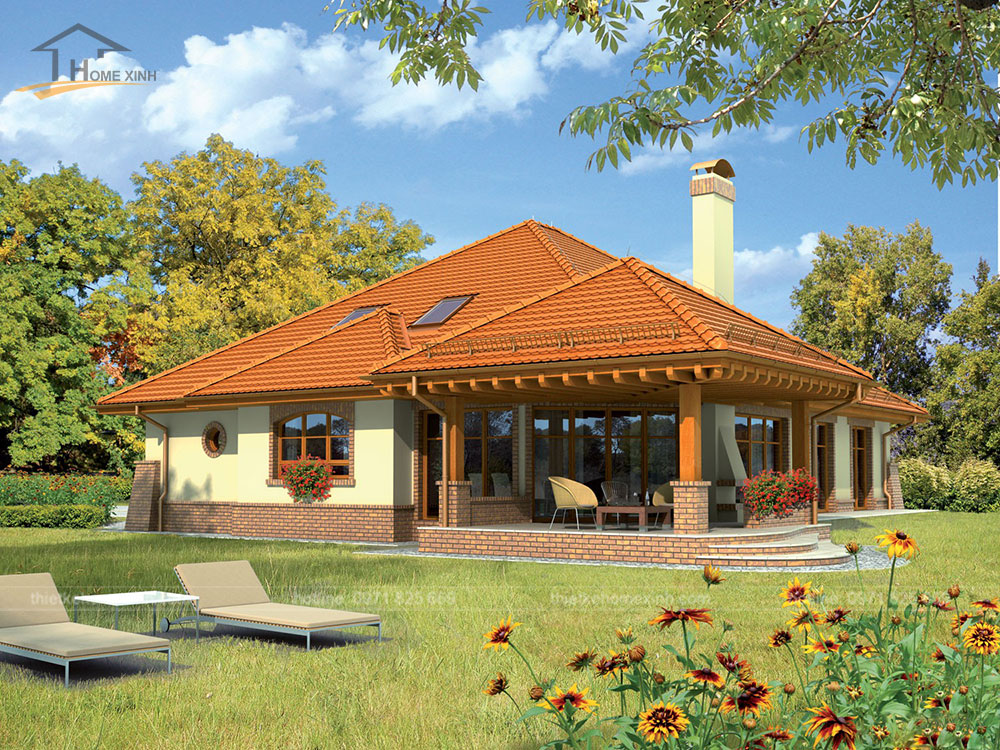 From every corner of the house gives us a beauty of sophistication, a harmonious combination of material and color, between color and light and the overall architecture. Resort space is of special interest. The spacious courtyard for planting grass helps homeowners hold an outdoor party or set up a set of tables and chairs to watch the stars. On the porch place a tea table and single chairs to chat with neighbors. All are to bring the feeling of relaxation and comfort for homeowners.
Design drawings of 2-storey garden houses in rural 206m2
+ 1st floor:
The first floor area is mainly designed for general activities, the number of rooms is numbered as follows:
Lobby: 10.21m2

Big hall + staircase: 17.86m2

Kitchen: 16.20m2

Kitchen warehouse: 3.89m2

Living room + dining room: 35.87m2

Office: 12.54m2

Shared WC room: 3.06m2

Bathroom in the bedroom: 7.97m2

Bedroom: 16.90m2

Dressing room: 8,19m2

Steam room: 19.36m2

Technical room: 3.04m2

Car garage: 34.64m2
+ 2nd floor (attic floor): 
The area of ​​the attic floor is designed with a smaller area, but this is the place where 3 bedrooms, 1 common room and other functional rooms are located:
Corridor: 8.69m2

Bedroom 1: 10.49m2

Dressing room: 1.81m2

Bedroom 2: 11.31m2

Dressing room: 6.32m2

Bedroom 3: 11.80m2

Dressing room: 4.06m2

Living room: 9.17m2

Bathroom: 9.77m2
+ Drawings of the section along the construction:
Above is a 2-storey garden house design in rural style in the area of ​​206m2. The house will definitely be the ideal living space, rest and relaxation for family members. To get a beautiful, luxurious and class house, please contact HomeXinh at hotline: 0971 825 669